A few months ago I was looking for a nice way to store my nail polishes. As your collection grows you might notice you can't keep them in that caboodle anymore. Reason? Maybe ... you have too many by now?! lololo And trust me, once you get into the lacquered nails life it's an addiction in your life. A good one though.
Yeah, I realized I had to come up with an easy box, a shelf or something I could keep my nail polishes organized. And my priority was : I need to have them out of the cupboards so I get to use them and not just have them sitting there collecting dust right?
Surfing on the internet I found really cute stuff from all price ranges and tastes - or both together lololo
Be prepared for the overload of pictures. Well, you might be interested in see what I saw throughout my hunting of a nail polish storage. These were the alternatives I found to store your nail polish collection.
A PLASTIC CART
I have seen some people putting their make up in those plastic bins and also nail polish but that's a little hidden for me. They are a cheap option though.
AN OLD DOLL HOUSE
If I still had my doll house I would probably use it. Look how cute this is. The only thing is that I don't think this would be a good idea while having kids over (nieces and nephews) to your house lololo Bottom line: it wouldn't be a choice for me but I thought I'd share.
Photo: Found on Google. But couldn't find the link . SO if this picture is yours please contact me and I'll put your name under here right away or if you want me to remove it please let me know as well. I am not a photo stealer :)
A CART
When I went to Brazil and had my nails done I saw this cart and what came out of my mouth was: "Cooooooooooooooollllll" This is super awesome! You can store your polishes and also odds and ends on the bottom. It comes in different sizes depending on the number of shelves on it.
- 8 shelves ( 176 nail polishes)
- 6 shelves (138 " " )
- 4shelves (88 " " )
It retails around $179. I was studying ways on how I could have that shipped to me here from Brazil. I just Loveeee this!
A FURNITURE
I saw this piece of furniture , lets call it that way. It's a wood stand with draws that you can neatly organize your polishes in line. Isn't that just super adorable? I wish I could find where they sell these. I got these pictures from a brazilian blog though and it seems it was somewhere in Brazil. Dang it! And that's what I'm talking about. If you have your polishes organized like that it's just easy to find them. I'm so in love with it!
A PIECE OF INTRIGUING ART
This one I have seen in the nail salons in Brazil too. These cute nail polish carts really catch your attention as they seem to be floating by that big plate. What makes that ilusion to your eyes is the nylon thread holding the polishes by their caps. Such a great idea! What I know is that they are also sold in Brazil and they run around $250. I know, those things can be expensive.
A SHELF
You can buy them online or just have one custom made for you. These next two were custom made and are against the wall. I really don't know if I would like to have something like that. Sure does look cool! But can you imagine having this and your jealous friend saying : "Oh, I think you have way too many polishes" lololo And plus I don't have that many of bottles to display proudly like that anyways. The fact I like on these ones is that your nail polishes will be screaming at you "Please use me!!" If you put up with a shelf like that you better have your nails all lacquered up.

Now we have these shelves that are smaller and cute. You can be displaying polish pride on your walls. These Apple racks can be found all over the internet specially on Ebay. And it's sold around $189 sometimes with shipping included.
The Hello Kitty rack I found on Etsy. It's for sale $250. Yeah! Back in the days I would be drooling to have one of these in my room.
This acrylic nail polish rack it's pretty popular among the polishaholics on duty. They are also to be hang on the wall. I've seen people spreading this all over their walls. When I first started looking for a new home for my polishisss I kinda considered those acrylic wall racks cause I thought they were cheap. Cheap??? No, they are not cheap whatsoever ( They retail for at least $50 plus shipping the little ones). Plus after buying you have to drill wholes in your wall to put them up. I gave up and decided it wasn't what I was looking for anyways.
PS: When I say cheap or expensive is based on my budget. I don't know what your are so please don't judge me.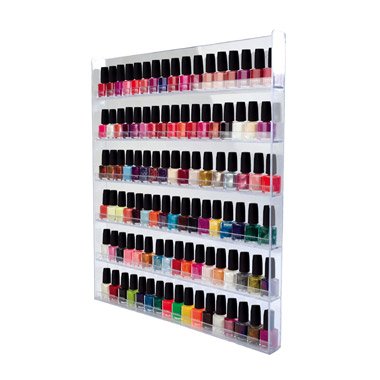 This one you can also find on Ebay. And like I said the acrylic stuff isn't cheap (this ones are sold for $47.99 +SH). I kinda like this one cause you can put on the table at your station or in your closet or even in your bathroom (if you have a big counter). But when I saw this I didn't love at the point to make a buy decision.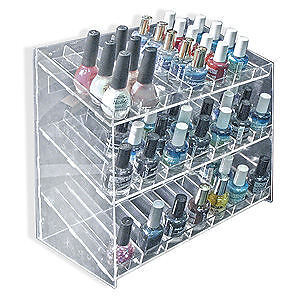 Photo:
Ebay
$47.99
Then I saw these ones and I felt in love. I thought they were different and could serve the purpose I was looking into on a way to store my polishes. They are a nail polish display that rotates. Don't you think this is a have to have it? Imagine your polishes in that carrousel thing where you can just spin it around and tan dan "here is the polish I was looking for" in a matter of just you deciding on what color you are gonna paint your nails. And because they are acrylic of course they are gonna be a little pricey. But they are just a.d.o.r.a.b.l.e
I hope you like this post. I thought this could be helpful for some of you out there. When I first started looking for alternatives to store my polish in an organized way I was kinda lost cause couldn't find any blog with a post like that. Yeah let me brag about myself right. But seriously, there you have all of the options I looked into. Being that way it might be a little easier for you to decide what better way suits your taste. And if you have a different way of storaging your babies please drop me a comment here. I would love to hear form you. Don't post links on comments cause they go to spam. So if you have a link please email me at
contact.lacqueredme@gmail
and I can make a special post just to share your idea.
Now do you wanna guess how I store my polishes? Leave me a comment. If I have lots of sweet comments I might extend this to another post next Tuesday :)