I'm not into vampire things not even care about the Twilight books and movies. Not at all.
However, Essence Cosmetics is gonna be releasing a new collection called
Vampire's
Love this month. I am so lemming the nail polishes from that collection. Since Essence is an european company I'm not sure if we are gonna be able to find this collection here in the US. We can always get Essence Colour & Go at ULTA so I'm hoping they get these polishes. I really want them ... want them all. What about you?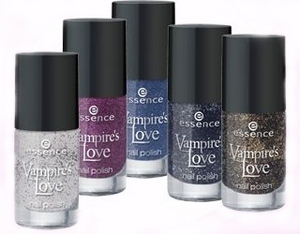 Are you lemming any collection/polish coming out soon? What is it?