Pin It
Have you ever thought of having a lipgloss to match your nail polish? Yes, you read it right? And the brilliant mind behind butter London thought about it and more than that is now offering us 5 gorgeous shades of nail polish and lip gloss to match. Isn't this brilliant?
butter LONDON™ Enters Lip Category with Launch of
LIPPY
butter LONDON™, the cult phenomenon of the nail industry, built their reputation on cutting edge colour. Their 3 Free nail lacquers are create backstage at Fashion Week and have made their way from catwalk to sidewalk in record time. This season, butter LONDON™ will expand their hold on colour with the launch of
LIPPY
, a range of long-wearing, lacquer-like lip glosses in shades to match their famous nail lacquers.
As a backstage fixture, the brand noticed a growing trend for S/S 2012 in "matchy-matchy" manicures, pedicures, and lips. This elegant, classic look is making a comeback, but modernized with fresh new colours. The
LIPPY
colours are rich and densely pigmented for a look that's deliberate, high fashion, and luxe, just like the brand's nail lacquers.
LIPPY
will launch with five bespoke butter LONDON™ shades – Primrose Hill Picnic, Snog, Trout Pout, Yummy Mummy and Teddy Girl – in April. (Ulta will have exclusive availability in March)
Dictionary Definition:
LIPPY
– British slang for someone who makes impertinent or cheeky remarks.
(Glosses are $17 each)
LIPPY
products do not contain parabens, petroleum, phthalates, sulphates or bismuth. butter LONDON™ is available at the Seattle-Tacoma International Airport flagship store,
www.butterlondon.com
, and in fashion boutiques, specialty retailers, and beauty apothecaries around the globe.
Click on the image above to enlarge
Now scroll down and see all the pretty colors for us to put on our lips and nails by butter London. Oh, I can't wait to try them out and show them off to my friends :)
PrimroseHillPicnic
Snog
TeddyGirlMatchup
TroutPout
YummyMummy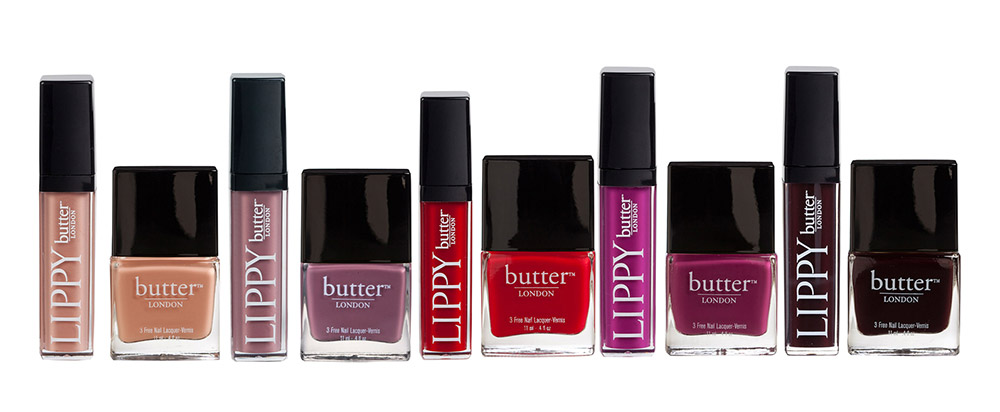 What is your favorite? Or ... what are your favorite colors? It's hard to pick just one right?
My favorite ones are Trout Pout and Snog
. Oh they must be pretty in real life :) When you guys get any please come back here and tell me which one you got. I'd love to know!